James
288 WEST 1ST AVE, VANCOUVER
James at False Creek was built to be a place where people live their lives, not just sleep at night. The amenities offered by James include everything from a first class fitness facility to a concierge service and one of the most impressive rooftop terraces in the city.
James at False Creek knows that life in the city can move pretty fast, and at times it is hard keep up. The exclusive concierge service at James is there to help you stay on-top of your to-do list so you can catch up with the rest of your life. A sampling of the Concierge services includes dry cleaning service, mail and courier service, party planning, key-holding, and much more.
The rooftop on most residential buildings is reserved for the penthouse owners, but not at James. James at False Creek invites everyone to enjoy over 5,000 sq/ft of tree-lined and gorgeously landscaped outdoor space complete with a secure children's play area, fully equipped outdoor kitchen and community gardening plots. "UP" lounge, an enormous glass-covered observatory, which includes an indoor kitchen, ensures year-round enjoyment of the outdoor living space and the stunning views of downtown Vancouver. "UP" also includes a rooftop lounge complete with games room (an ideal setting for a private party, or a night of no-limit texas hold'em), sumptuous couches, a private bar and big screen TV.
The country club quality fitness facilities, steam-room, and sauna will meet the needs of the most discerning athletes and inspire those who have never lifted a weight in their lives. In addition, a yoga studio provides residents with a more serene environment to exercise their mind body and soul.
James at False Creek knows that sometimes your home is your office. The business centre at James provides you with the opportunity to meet your clients in a comfortable environment with access to a white board, boardroom seating and full wireless access.
Developed and built by Cressey Development Group
Impeccably designed by award winning Rafii Architects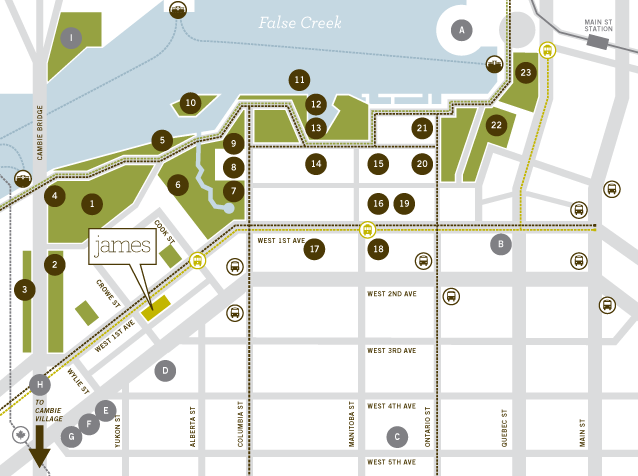 FACILITIES:
In Suite Laundry, Recreation Center, Sauna/Steam Room, Elevator, Exercise Centre
active listings in james
Currently James doesn't have any active listings. Check back soon.